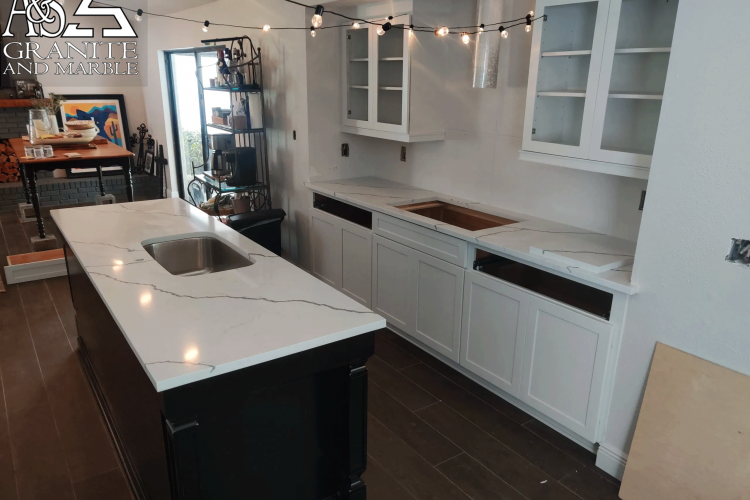 A BRIEF COMPARISON CAMBRIA, CORIAN, AND SILESTONE QUARTZ COUNTERTOPS
Besides price is there a difference between these 3 quartz manufacturers? We were surprised by our findings!
The one thing quartz offers is consistency of color and strength. Because the slabs are manufactured they don't have the usual natural fissures, voids, and structural inconsistencies of natural stones.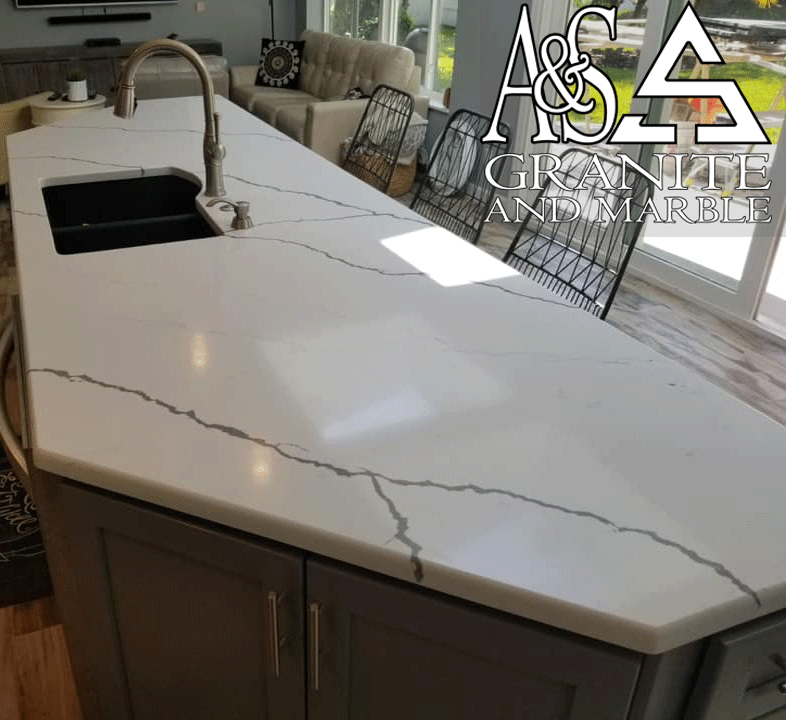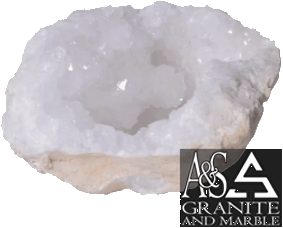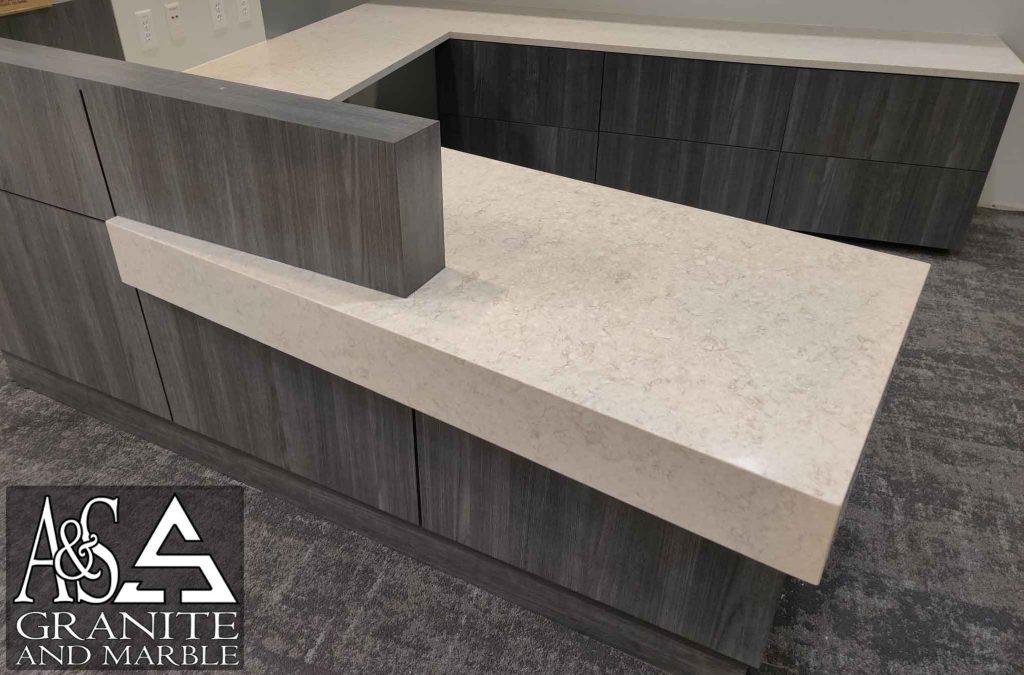 If you've ever seen something like the geodes in this picture this is how all of these engineered stone slabs start out. These crystals have hardness ratings nearing diamond level. It is very durable, resistant to scratches, and heat up to a little thank water's boiling point or so. As to not over complicate how we as fabricators and installers we look mainly at the three following characteristics to compare Cambria, Corian, and Silestone quartz products.
Cost
Manufacturing Processes
Features
From here we can discuss how these three differ widely. Customers of ours can then make an informed purchase of kitchen, bathroom, wet bar, or whole house construction using any of these three. Done one by one in alphabetical order.
Priced Differently and Why
Cambria – Made in The United States of America. Family-owned and operated premium grade engineered stone for countertops. Considered one of the worlds best manufacturers of quartz countertop materials. The materials sourced (quartz) also originate here in the united states.
All of the water used in the manufacturing and engineered stone are reclaimed and re-used. The excess materials are also reused as base for construction and landscaping projects here in the United States and abroad.
Silestone – engineered stone uses only twenty percent of resins used in other solid surface materials, yielding it to be more 'stone – like' than other quartz based materials. This has benefits for kitchen design and utilization once installed.
Bacteriostatic surface of every slab – called Microban®. This alleviates worrying about bacteria, mold, and / or mildew.
Silestone falls into the medium to premium price brackets for quartz materials. The new color lines and designs make this a stylish and robust material for your kitchen countertops.
Corian Quartz – formerly Zodiaq Quartz is one of the most popular countertop materials for kitchen designs. It consists of one third acrylic resin binders and two thirds natural minerals. The look is exactly the same as genuine stone. This is a cost-effective budget material and the most affordable of the three manufactured materials showcased in this post.
Production and Materials for Manufacturing Processes
Kitchen countertops using quartz materials – regarding price point is largely determined by where the materials are sourced. The other main factor in cost / price is country of manufacture. Recycling and reuse practices and procedures as well as additional machinery to reclaim and recycle water used in manufacturing adds to the cost to manufacture.
Features
Cambria Quartz – timeless, elegant, and stylish. Our view of their color selection and design palette's vibrant and fresh. To the discerning client it is a must to have in the countertop design selection. The brand offers style, selection, craftsmanship, and quality.
The utmost quality and craftsmanship of Cambria Quartz materials for countertops is on of the best. As a non-purous material that repels water, bacteria, mildew, and mold makes a responsible choice in materials for countertops.
Silestone Quartz – contains Microban® protection against bacterial growth. Great attention to materials and quality have been paid in the manufacturing of these great countertop materials. Perfect for the discerning designer or homeowner. These materials can make a huge difference in the safety and longevity of your next kitchen countertop project or bathroom additions. We have found that most people like the color choices and aesthetic design choices of these materials.
Corian Quartz (formerly Zodiaq Quartz) – offer above average strength and durability. Built to last is their credo. Currently over 80 plus colors and tones. Guaranteed for 10 years through duPont warranty. Very strong and don't have to worry as much as being delicate with this material. A great choice for better economy if you can find a color or tone you agree with.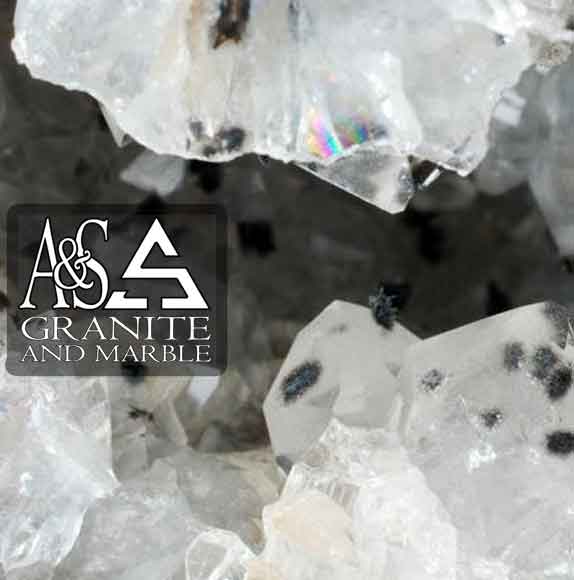 In addition to many other great choices in natural stones such as quartzite, granite, and soapstone, we have many other engineered stone countertop solutions to best fit your needs, such as Cambria USA Quartz, Curava, Vetrazzo, and so many more we won't list them here. Our installers will let you know what you should do to keep your countertops looking immaculate. Please get in touch with us by calling us at 813-571-1200. You can also send us a message via email by using our easy contact form. Now you can also use the Live Chat box located in the bottom right of your screen right now.
William and Anthony did a WONDERFUL job installing my granite. Very professional and friendly kind men. Would highly recommend them!!!! A& S Granite does a wonderful job.
OMG. Will and Anthony are fantastic. They could not do enough to make the job perfect, our quartz is beautiful They went way beyond the normal to assure we were happy 😃 I recommend them highly. They are an asset for A&S Granite
Currently remodeling a kitchen. William and Anthony came today to install our granite. They did an excellent job communicating and installing! I would highly recommend.
A&S Granite and Marble is a great company to work with. No hassles and a quick turnaround. Today William and Anthony instead the countertops and the job turned out beautiful!!.. William and Anthony were confident in their work and did a fantastic job of installing. I highly recommend A&S to buy your countertops and ask for William and Anthony to do your installation!!
The prices are reasonable, Heidi, David and Gonzalez are outstanding. Gonzalez did an excellent installation.
Dominic Fernandez
2022-02-10
I must of went to 10+ granite stores from Sarasota to Tampa. Our last stop by A&S. From the moment we started to work with Nilo at A&S, the customer service was met beyond my expectations. The appointment was quick, and organized with great attention to every detail. The install was timely and efficient. They worked around our cabinet delays with understanding and no complaint. The granite looks amazing! Thank you Nilo for taking care of us!
Elissa Barfoot
2021-12-13