Countertops With Leather Finish in Magma Gold Quartzite
Always appreciate the super custom jobs that are just different from the ordinary conventional countertops that comprise ninety-five percent of the jobs we get to do. These were challenging due to the high cleavage value of this natural stone in particular.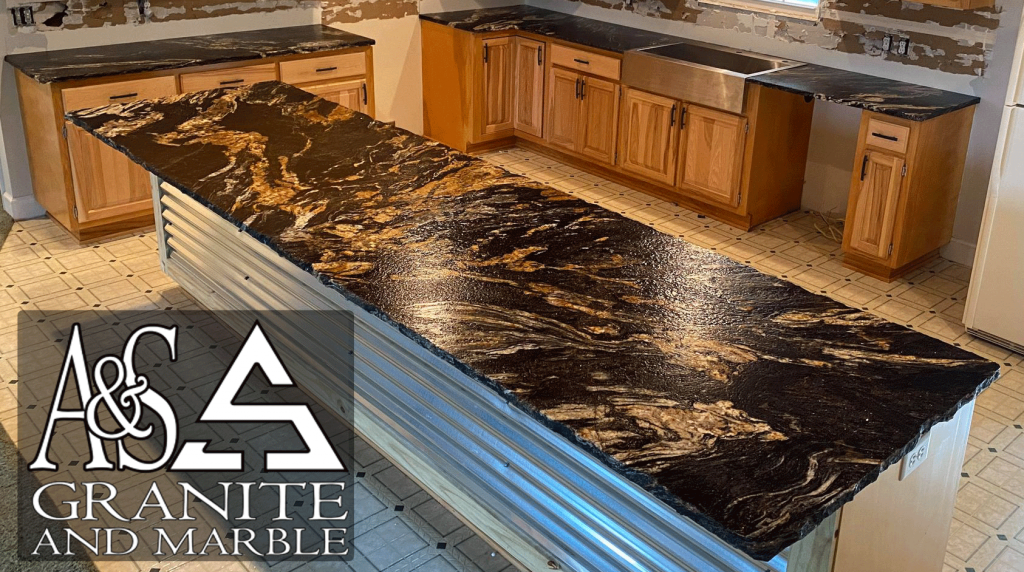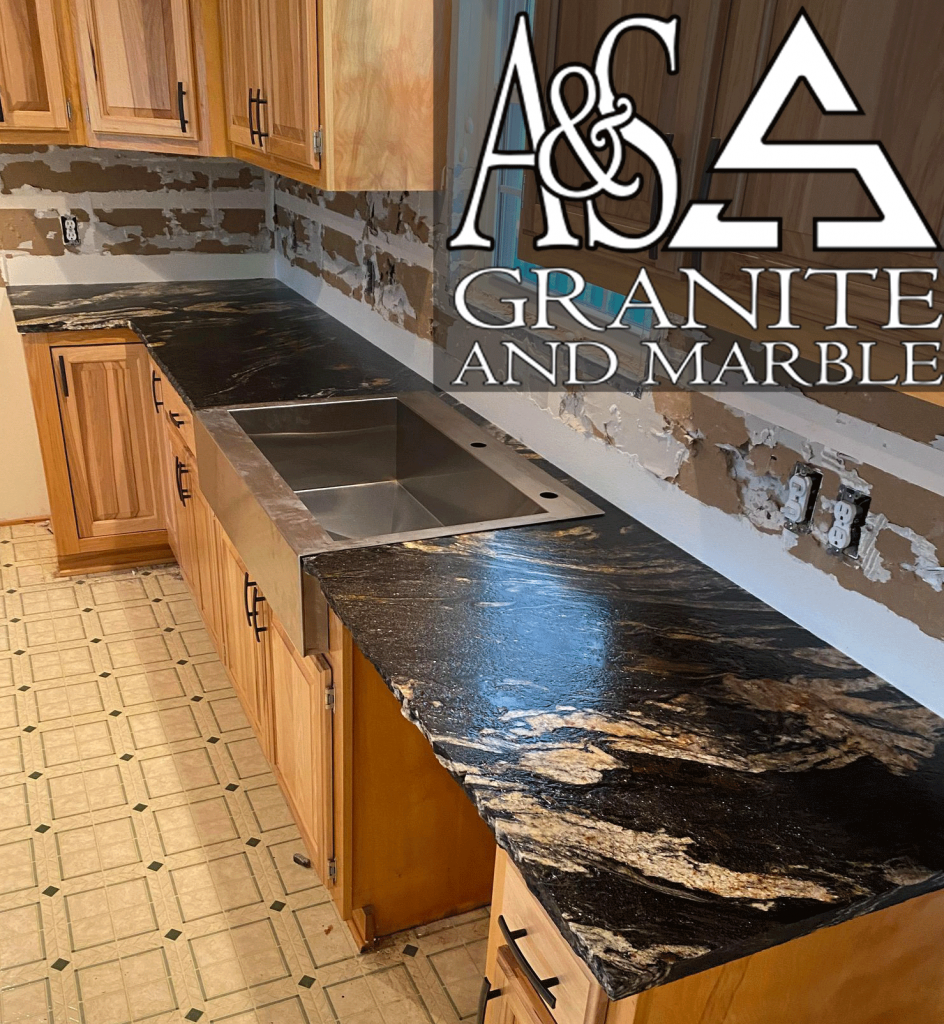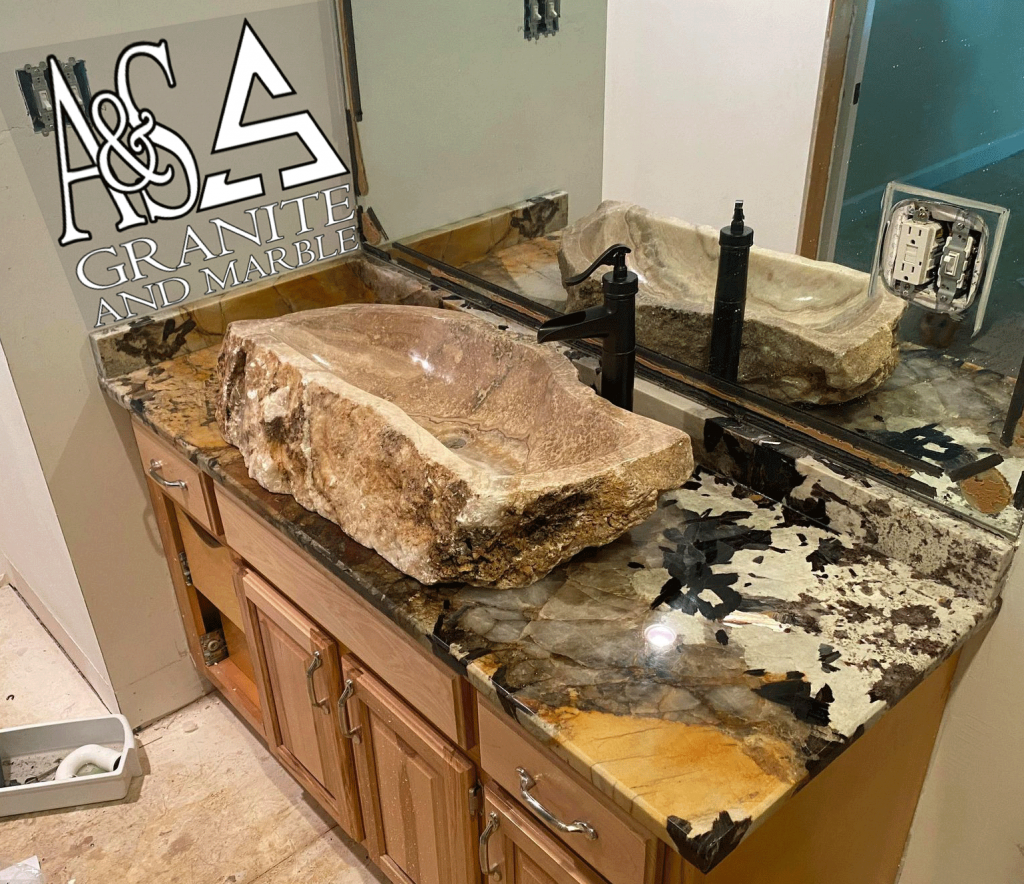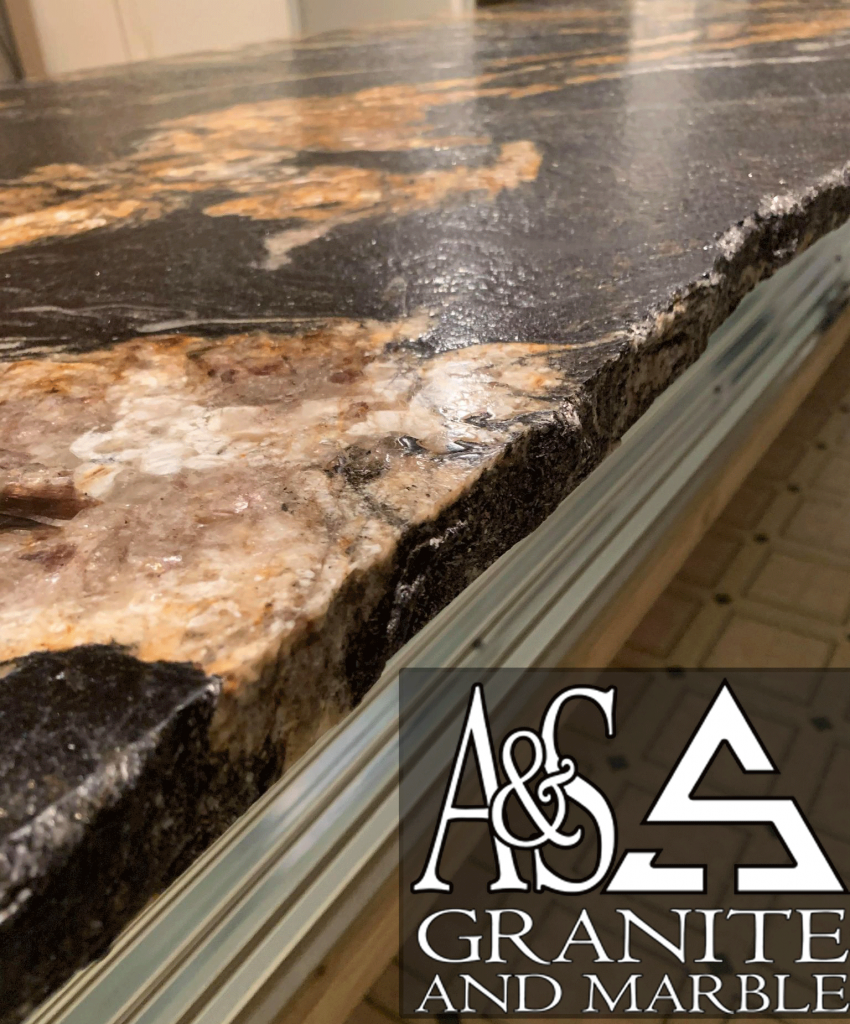 Our client saw and fell in love with the chiseled edge profile for his countertops. So we set out to make it work. Not only did the client want this beautiful textured top finish stone for his countertops – the real challenge was the chiseled edge. Then because it's leathered finish the chiseled edge had to be leathered as well. Which means it has to be polished to a matte finish and be done with special diamond encrusted brushes as opposed to the usual diamond pads.
Both we as a company and the client were very happy with the finished and installed countertops in this house in the big bend of Florida.
In addition to many other great choices in natural stones such as quartzite, granite, and soapstone, we have many other engineered stone countertop solutions to best fit your needs, such as Cambria USA Quartz, Curava, Vetrazzo, and so many more we won't list them here. Our installers will let you know what you should do to keep your countertops looking immaculate. Please get in touch with us by calling us at 813-571-1200. You can also send us a message via email by using our easy contact form. Now you can also use the Live Chat box located in the bottom right of your screen right now.
Marcela Hughes
August 31, 2020.
Ryan and his team are amazing!!!!! Súper profesional and always on time. Ryan came to our house every time we called him. Always went above and beyond to keep us happy.
Linda Landsman
August 24, 2020.
We had A&S replace our countertops on our outdoor kitchen and 2 bathrooms. Everyone did an excellent job and were so professional. The best part was that they had intially charged me $900 to remove my outdoor countertops, but when it turned out to be alot easier to do than they thought they shaved $600 off of my bill. Very honest and everyone there was so nice and friendly. Highly recommend!!!!
Jessica Cena
August 4, 2020.
William and Jonny fixed our undermount kitchen sink. They were great people to chat with and they did the work quick. 🙂 Will definitely call them if anything else decides to be funny and not work.
Mitch Rodriguez
August 4, 2020.
From the drawings to the installation these guys are top notch. This was my first time using A & S and as a contractor I am extrememly impressed. Mike did a great job on the installation. By far the best job I have seen and I do this for a living.
Lyndsey Rodriguez
August 4, 2020.
We had a wonderful experience with A & S Granite. Ryan came out to the house to give us his opinion on a pretty difficult job. There were a few things that they had to do for the first time. Instead of talking me out of my vision, they supported it and did it well. Dave and Nilo came out to template the job and were also very nice. When Mike got here for the installation, he was extremely proffessional and wanted to make sure we were happy. He also was a perfectionist and paid attention to detail which made us happy. We are in the construction business and we have seen people that don't do this. I have nothing but wonderful things to say about the customer service we received and the ability to embrace a difficult job and not be afraid of trying something new. Thank you for making our home beautiful. We will be using A & S on all of our stone needs for our business in the future.
Roseanne McIntosh
July 30, 2020.
A & S has far exceeded our expectations! The girls up front were so sweet and helpful! Especially Nicole who was so patient with us when we were experiencing delays with our cabinets. Nilo came out to do our template and he was awesome!! Arrived early, answered all of our questions, and explained the process. The guys in the yard were friendly and helped move a bunch of granite just so we could see our slabs when they were delivered. They didn't even hesitate! Steve & Vinny did our install and we couldn't be happier with the end result! The quality of work was outstanding! Everything turned out beautiful! They showed up early and finished the job quickly! From start to finish, A & S was amazing to work with and we are so happy we chose them! We HIGHLY recommend!
Christopher Linville
July 30, 2020.
We chose A&S Granite and Marble because we were in 2 other couples homes with a Beautiful Granite tops layout . Both were flawless to say the least . So we decided to add an addition to our home with a new kitchen. We called A&S Granite and Marble for what turned out to be as flawless as both previous jobs of our friends done by this company. We would also like to note that the installer Will was very easy to work with & made the job that much more enjoyable. Very efficient & clean ! Thank you A&S for another job well done .
Milissa Sulick
July 30, 2020.
Will and Boom were amazing!! Courteous, knowledgeable and professional! This is is the 3rd granite job that we've used A&S for, their quality and professionalism are second to none!!