Tags cambria, corian, Countertops, Covid-19 Safety, Curava Quartz, Granite, Granite Backsplash, granite countertop, Granite Countertop Quote, granite countertops, Granite Lakeland, Granite New Port Richey, Granite Palm Harbor, Granite Sarasota, Granite Tampa, Gray Quartz, quartz, quartz countertops, Quartzite Countertops, silestone, White Granite Countertops, White Quartz
Buy your sell your home or settle into a retirement leisure situation, stone can beautify, update, and last a lifetime. Stone can add personality, strength, and brighten your countertop outlook. We are seeing patterns of preference of home buyers of all types selecting homes with granite, marble, or quartz over other countertop types. Lenders support this type of building material. Most commercial builders are using some form of engineered stone (quartz countertops) to their most used reception areas, rest room facilities, and office work spaces.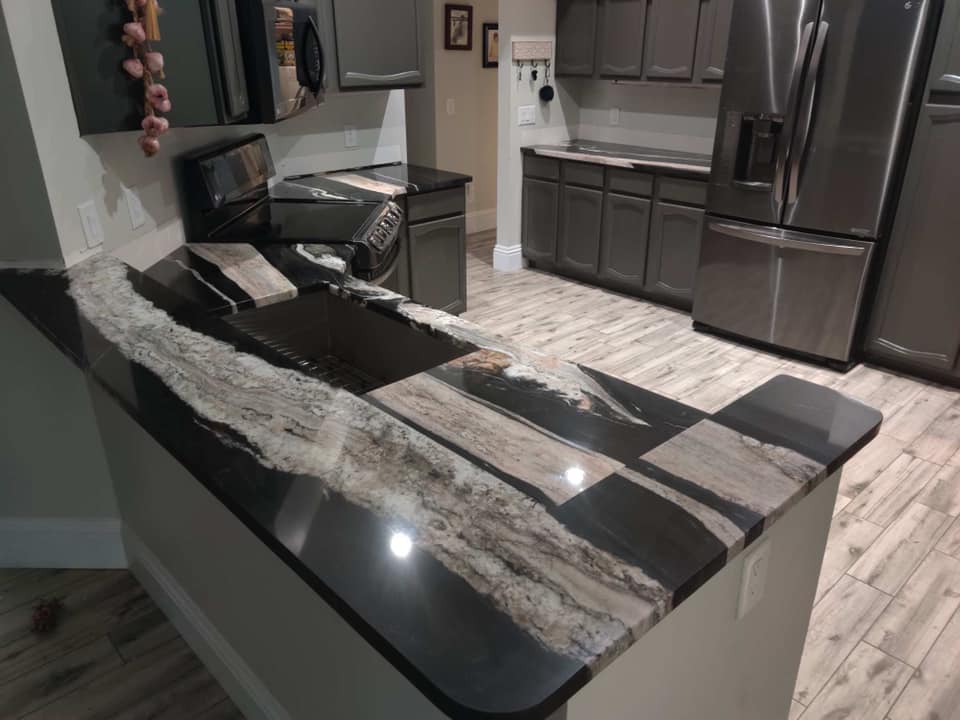 At A&S Granite, we help you find the choice solution to polish off the look of your home, condo, townhouse, office, or leisure area—and let's face it– there are a lot of choices. Every day we see varieties of stone with names and origins so numerous, no one could remember them all.
Speaking of origins…
Granite and marble have been used for eons as building materials for works of art and architecture, such as the pyramids of Giza, the roads of Rome, the walls of the cathedral of Notre Dame in Paris, and so much more.  Nowadays, these natural resources are mined from large stone quarries and then refined into slabs. Slabs are filled with rosin and polished flat on one side. Then these materials are purchased by large granite and marble warehouses, put on display, and purchased by fabricators like us. These materials vary widely in mineral makeup, consistency, hardness, and appearance.  
Quartz, on the other hand, is considered an engineered stone. Its make-up is approximately 93% stone aggregates and 7% polyester resin by weight (66% quartz and 34% resin by volume). Quartz is heated and compressed under vacuum in a large press. Different manufacturers we work with such as Cambria, Corian by Dupont, and many more, use a variety of proprietary dyes and materials to produce consistent colors and patterns from slab to slab – differing greatly from natural granite, marble, and quartzite.
Before the nineties these materials were expensive to fabricate, transport, and or install. Diamond tools and other advancements in shipping and technology such as the BACA robotic jet saw, made it more affordable and accessible to every neighborhood in the United States, in one form or another.  So, whether it's natural or engineered stone or whether you updating the look and feel of an existing space or new building, A&S Granite can point you in the right direction to the right materials for you. We work with the best stone and quartz suppliers in the Tampa Bay area to offer the best value, quality, and look. 
In addition, A&S Granite and Marble can give you some great tips for maintaining your granite countertop. Our installers will let you know what you should do to keep your countertops looking immaculate. Please get in touch with us by calling us at 813-571-1200. You can also send us a message via email by using our easy contact form.