Tags cambria, corian, Countertops, Covid-19 Safety, Curava Quartz, Granite, Granite Backsplash, granite countertop, Granite Countertop Quote, granite countertops, Granite Lakeland, Granite New Port Richey, Granite Palm Harbor, Granite Sarasota, Granite Tampa, Gray Quartz, quartz, quartz countertops, Quartzite Countertops, silestone, White Granite Countertops, White Quartz
There are many manufacturer options out there in the quartz arena. Several of which we even offer on a square foot program – where you only pay for the amount of square footage you use (*square foot minimum applies*). A few of the brands that are offerred in this program include A&S Granite and Marble, Inc. (house brand quartz material), Cambria USA, Pompeii Quartz, Quantum Quartz, and Corian Quartz. All of these are great options to fit your design, space, and look.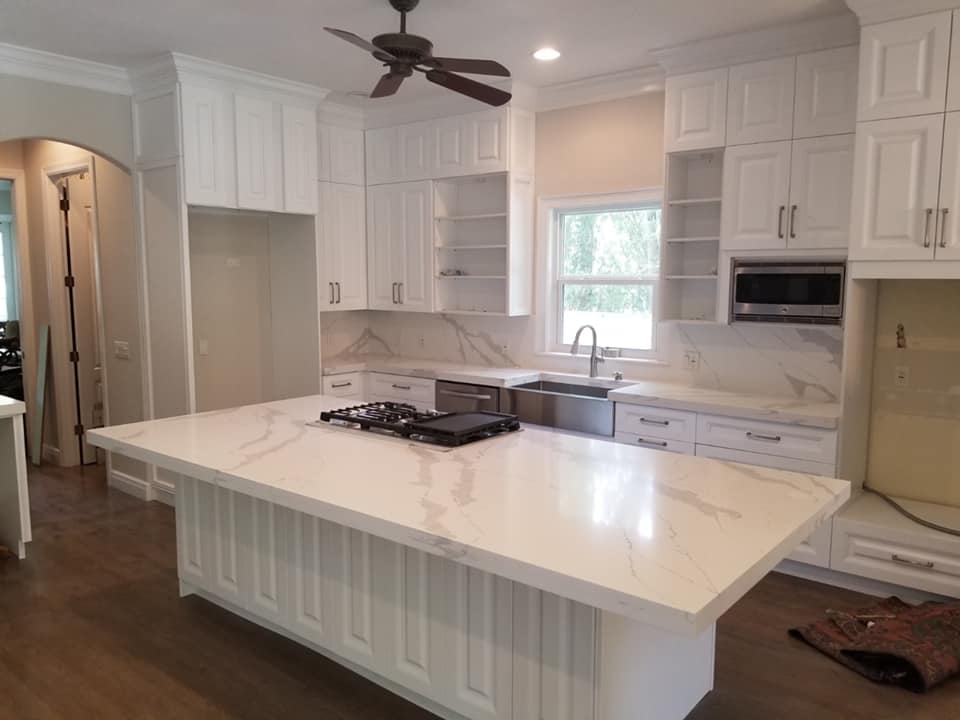 Today we will explore what is special about Cambria quartz. To start with it is developed, engineered, and manufactured in the United States of America. Most engineered stone is just that aiming to create a consistent look and durable finish to imitate the look of other more fragile stone types such as exotic marbles. In other ways you can have consistent and un-natural color pallets not offered by mother nature such as solid colors.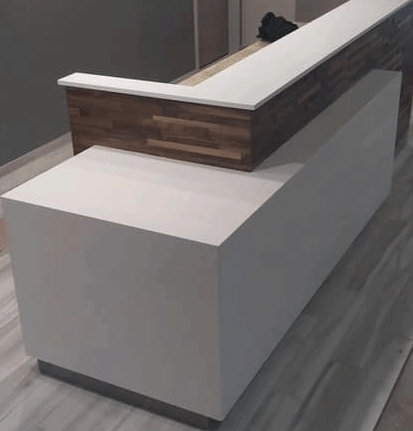 Our process of Laser based templating along side of great quality allow things like Mitered corners, Stack Laminations, Floating desks and other advantages of the added strength of space aged polymer binders in Engineered Stone. Here is a great example of a completed project here in Brandon, FL using Cambria Quartz with a floating transaction top and full desk floating mitered box wrap. All that to say we are close to only being limited by the imagination and labor budget of your next amazing project. We are excited to discuss your needs at any time.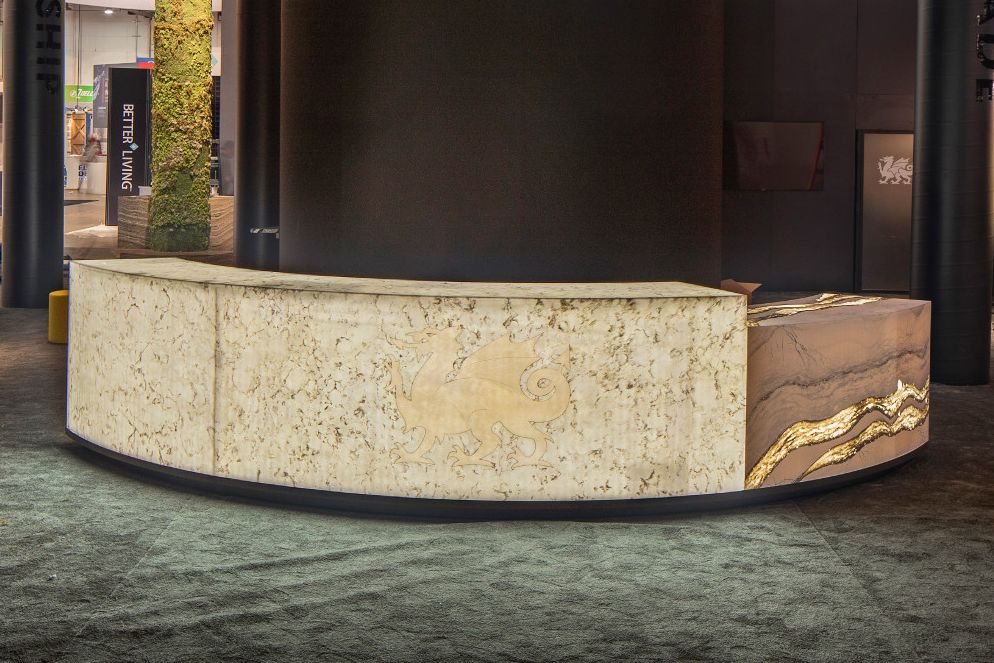 Innovation & Design – "Using the finest ingredients and our own proprietary technology, we're able to create a design palette with breathtaking beauty and exquisite depth and clarity no other quartz manufacturer can match. Our most recent innovations include selections that may be backlit to add dramatic new elegance to any space." by cambriausa.com Check out other Design Inspirations by Cambria.
We would love to see you and help pick out the best Cambria has to offer and how it can fit into your next design, rebuild, or construction project. Need additional inspiration from Cambria they have a great design and inspiration to give ideas. If / when you have any questions regarding your needs and how we can assist you in choice of color, measuring your project, fabricating your Cambria, installing your countertops, and follow up from your completed project.
In addition to many other great choices in natural stones such as quartzite, granite, and soapstone, we have many other engineered stone countertop solutions to best fit your needs. A&S Granite and Marble can give you some great tips for maintaining your granite countertop. Our installers will let you know what you should do to keep your countertops looking immaculate. Please get in touch with us by calling us at 813-571-1200. You can also send us a message via email by using our easy contact form. Now you can also use the Live Chat box located in the bottom right of your screen right now.