Tags cambria, corian, Countertops, Covid-19 Safety, Curava Quartz, Granite, Granite Backsplash, granite countertop, Granite Countertop Quote, granite countertops, Granite Lakeland, Granite New Port Richey, Granite Palm Harbor, Granite Sarasota, Granite Tampa, Gray Quartz, quartz, quartz countertops, Quartzite Countertops, silestone, White Granite Countertops, White Quartz
Family health during this time is paramount. With a Couple changes in how we keep our countertops and other high traffic high touch surfaces in our homes clean we can keep the possibility of transmitting the virus from surfaces in our home to a minimum.
Clean and Disinfect these high touch surfaces every day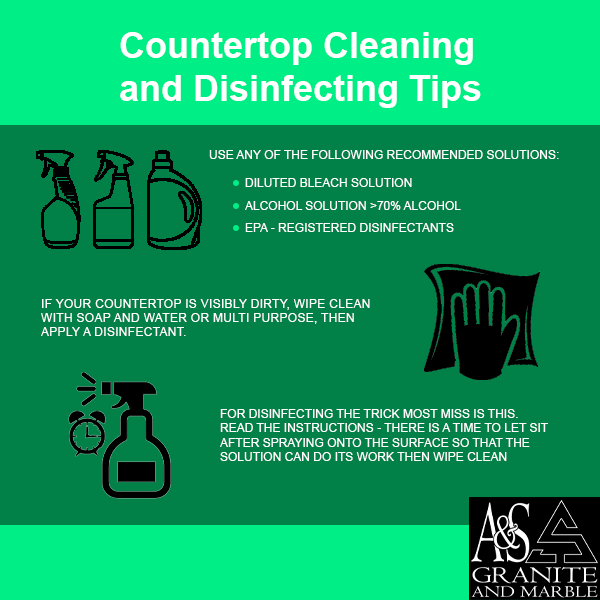 Disinfecting is just a step past "cleaning" your surfaces. Other surfaces should be taken seriously as well such as light switches, door knobs, remotes, hard backed furniture, phones, appliance and cabinet handles, desks, sinks, and toilets. Special attention should be paid to these surfaces that are frequently touched by multiple family members.
EPA-Registered cleaning products and Techniques are best for your home and safety
Corona Virus cleaning takes more than just water and elbow grease. Clean with soap and water, let dry, then use an EPA registered disinfectant. Another alternative that is safe and effective is Isopropyl alcohol. Spray the disinfectant, leave the surface wet for a bit before wiping away to give time for the solution to impregnate the surface and disinfect. Then wipe away with a clean rag, sponge, or paper towel. Wash all items that can be washed in a washing machine. Clean your sponges and rags after use with soap and hot water.
Our install technicians are required to wear masks and gloves and keep social distancing practices in effect to keep you and your family safe as well as ours. For all other concerns please refer to the Centers for Disease Control or your local state and county health resources. We wish you to be happy and safe out there.
A&S Granite and Marble can give you some great tips for maintaining your granite countertop. Our installers will let you know what you should do to keep your granite countertop looking immaculate. Please get in touch with us by calling us at 813-571-1200. You can also send us a message via email by using our easy contact form.