Tags cambria, corian, Countertops, Covid-19 Safety, Curava Quartz, Granite, Granite Backsplash, granite countertop, Granite Countertop Quote, granite countertops, Granite Lakeland, Granite New Port Richey, Granite Palm Harbor, Granite Sarasota, Granite Tampa, Gray Quartz, kitchen countertop, maintaining granite, quartz, quartz countertops, Quartzite Countertops, silestone, White Granite Countertops, White Quartz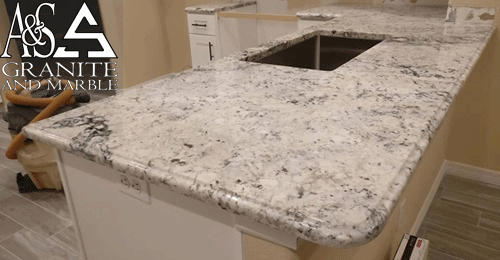 Your kitchen granite countertops could be one of the most used places in your house. The everyday hustle bustle can cause a lot of wear and tear. It can specially take away the luster and shine of your kitchen countertops. If not taken care of, the kitchen countertops can wither and lose their beauty. Here are a few simple tips that can help you maintain your granite kitchen countertops and make them last longer.
Granite Countertops Stain Cleaning
Your kitchen countertops are susceptible to stains from items like tomato sauce, vinegar, juices and so on. Spilling these things on the countertops can stain their surface or even cause them to fade, if the substance is acidic in nature. Using a generic liquid cleaner or the regular usage of soap water can dull the surface of the countertop. Use a specially-formulated granite countertop cleaning liquid to clean the stains.
Countertops can also get stained if you cut your vegetables or fruits on them. Use a cutting board to prevent scratches and lines. Also, build a practice of using coasters for placing any items on your counter. For detailed cleaning of your kitchen countertops, remove all the items from your counter and clean dirt from it, including the dust on the edges and corners. A regular cleaning session can ensure the durability of your kitchen countertops.
Polishing your Granite Countertops
It is important that you understand that the sealing of the granite countertops is different from polishing. Polishing is done to enhance the original shine of your countertops. People often use ammonia, vinegar, lemon or even bathroom cleaners to polish their kitchen countertops. Steer clear of these materials and use a specially-formulated polisher for your granite kitchen countertop to get that shine.
Repairing the cracks in your Granite Countertop
Kitchen counters can develop cracks and pits if heavy objects are placed on them. Hot pots taken off right off the flame can cause a thermal shock to your countertop and crack it. Use a hot pad for placing your pots and pans to avoid a pit. Don't use your kitchen countertop as a seat. Sitting on it may put pressure on one spot, causing it to crack.
In case of any cracks, a DIY crack repair kit available on the market is not the best solution as it is not a very effective method and can make your countertop look unattractive.
Call an experienced professional for repairing cracks with proper finishing. A&S Granite and Marble, are a team of well trained and skilled professionals to deal with all of your granite countertop issues.
If you need any further guidance on the maintenance of your granite countertops, contact us at 813-571-1200. You can also send us an email with our simple contact form.