Tags cambria, cleaning, corian, Countertops, Covid-19 Safety, Curava Quartz, discoloration, durability, Granite, Granite Backsplash, granite countertop, Granite Countertop Quote, granite countertops, Granite Lakeland, Granite New Port Richey, Granite Palm Harbor, Granite Sarasota, Granite Tampa, Gray Quartz, outdoors, quartz, quartz countertops, Quartzite Countertops, silestone, White Granite Countertops, White Quartz
When you're trying to figure out whether quartz countertops are in your home improvement future, it might be best to figure out what you don't want. At A&S Granite and Marble, we have a pretty good idea of what works best for your kitchen or bathroom. We'll give you a short list of the quarrtz countertops deal breakers. This information might make you think twice about your choice of stone.
Outdoor quartz countertops are not a good idea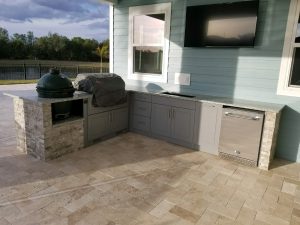 When you're planning to put a stone countertop outside, its best to keep in mind that the sun will fade a countertop made from quartz. It would be great to be able to grill outside and show off your nice countertop when you're hosting a summer Florida party. However, our experts say granite would be a better choice.
If you're really messy then think again
Quartz countertops look great, especially with all the options you have for color and cut. However, they need to be sealed regularly to prevent staining. Even properly sealed quartz countertops could have an issue with discoloration if certain liquids aren't cleaned up immediately. Extra care must be taken for the quartz countertops in your home.
Careless with hot pans and plates?
Engineered stone is very durable, but prolonged heat can cause some discoloration. If you plan on cooking, make sure you invest in trivets and other buffers from your hot items. The resins that are used in the fabrication on quartz countertops are vulnerable to heat. Granite, on the other hand was forged from molten stone and because it was forged in fire it is much better at resisting it.
At A&S Granite and Marble, appearance is everything and your satisfaction is key. We cover all of Hillsborough county and some of the outlying areas. If you would like to inquire about all your options, we have some expert staff standing by. You can get in touch with us by phone at 813-571-1200. Alternately, you can use our contact form to send us an email.