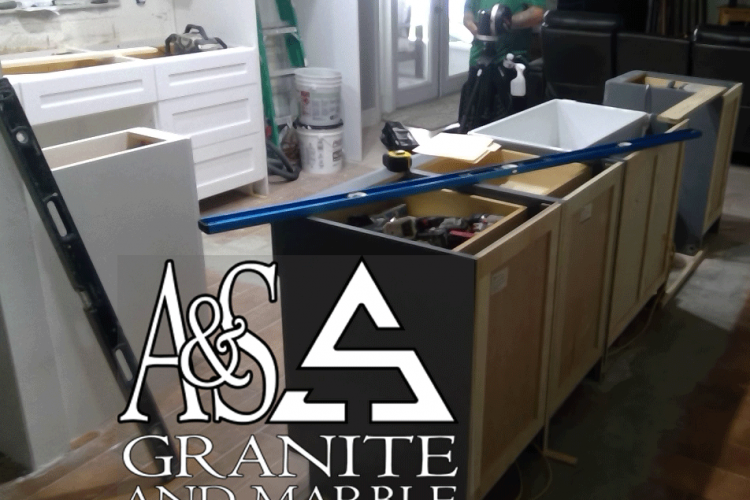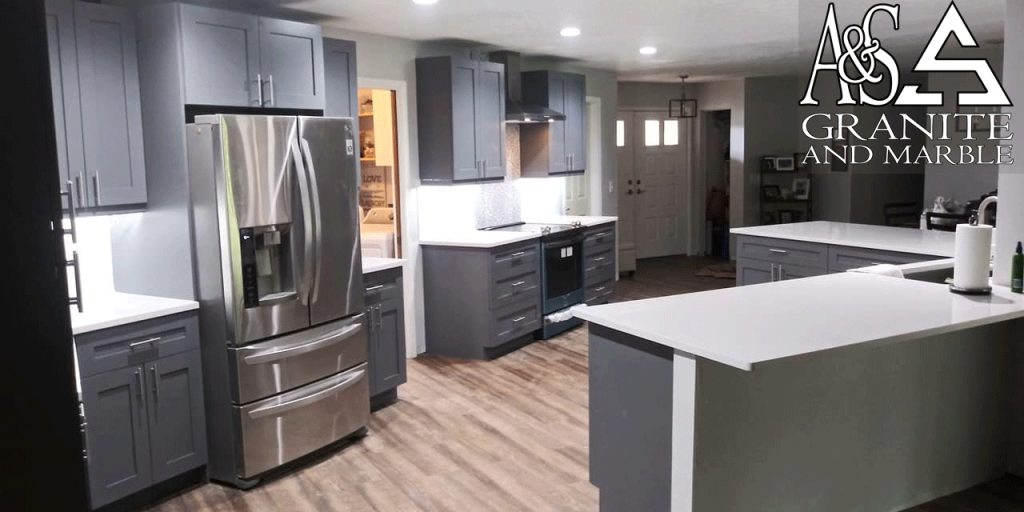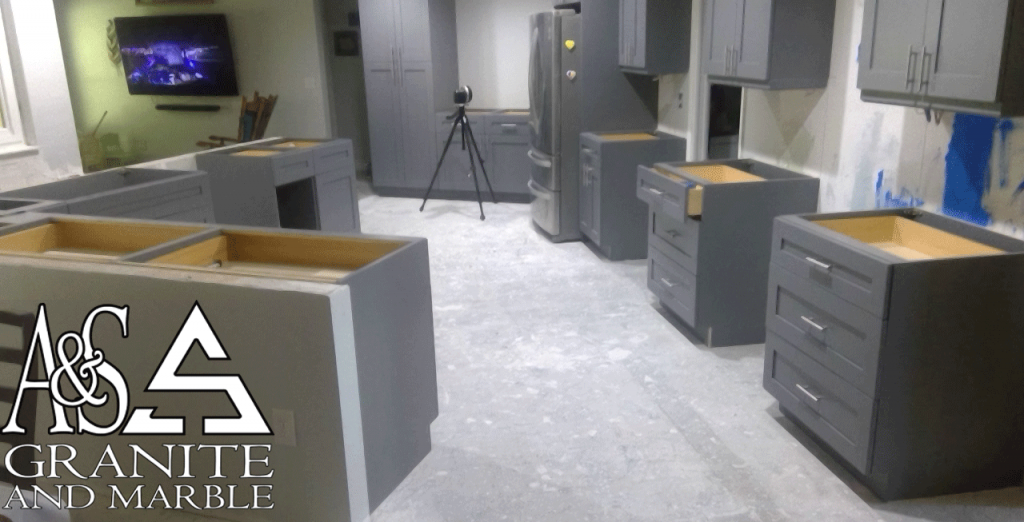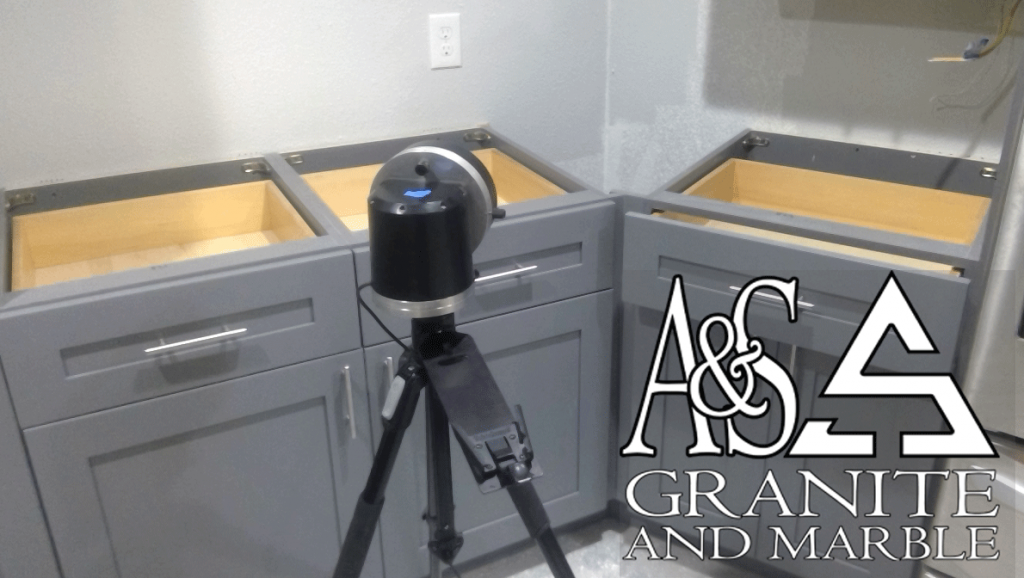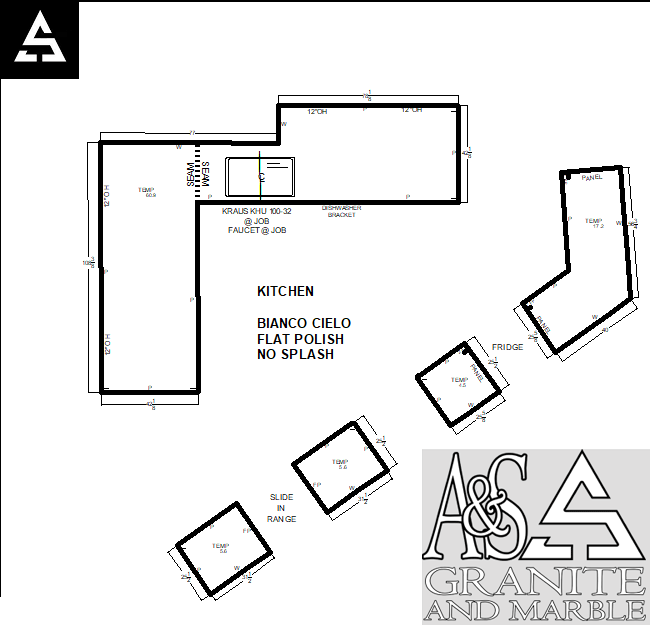 Working with contractor to replace countertops start to finish. Let me back up a bit and explain our process. We work with a contractor who replaced the cabinets in this spacious kitchen. The customer already picked the color quartz – bianco cielo in this case and now the area needs to be templated for final square footage. We can then determine the amount of material needed to successfully complete the project.
Once our template technician arrives on the job site introductions are made and the tech begins his process of measuring and verifying the measurements. The laser measuring device makes digital representations of the areas that need stone. Replacing countertops is a very precise process and leaves very little room for error. The templater is also responsible for correctly marking the areas and noting the profiled edges of the project opposed to unpolished sides that butt up to a wall or is open ended. Maybe there's a stove that needs to have the sides flat polished for a slide in range.
The data is then uploaded and verified, marked up for final quality control and finally sent off for approval by the customer/contractor. Once approved then the materials are ordered, sinks delivered or ordered if purchased from our showroom.
Once approved the contract is set and final and we begin the fabrication process. The appropriate shapes are cut by our robo saw jet machine from BACA Systems. Giving us the highest degree of precision in cutting the job to be fabricated and installed in this stage of the countertop replacement process here at A&S Granite and Marble, Inc. Our quality control and validation process keeps everyone safe and your project on task and on time. In all businesses it's not if mistakes or needed corrections happen. Our track record of standing behind our work and our main company goal of replacing your countertops and correcting mistakes.
Our scheduling team contacts the customer to schedule the installation window. After the optimal time is agreed upon we go out and begin the countertop replacement process. We get the material off the trailer and usually onto a cart and prepare the installation areas. After ensuring the sink (s) are in place and the cabinet tops and knee walls are clear and ready for installation.
Placement and verification of the pieces is crucial for ensuring that the tops will fit and seam properly with minimal gaps to the cabinet tops. After all pieces are in place the seam process and sealing the tops to the cabinets is started. The sink(s) need to be installed and sealed then given a vulcanizing window of 24+ hours to fully cure. Countertops are then sealed by adding 100 percent silicone to the under side of the countertops to the cabinet. Splash are then installed and silicone applied to the joints where the countertop and backsplash meet. As well the all to splash/countertop is also caulked using a paintable caulk. Next would be a final wipe and cleaning our work areas within the job site.
Once the job is gone over and inspected by our installation technicians and then the customer finally signs. We aim for satisfaction from all of our customers and our work is guaranteed.
In addition to many other great choices in natural stones such as quartzite, granite, and soapstone, we have many other engineered stone countertop solutions to best fit your needs, such as Cambria USA Quartz, Curava, Vetrazzo, and so many more we won't list them here. Our installers will let you know what you should do to keep your countertops looking immaculate. Please get in touch with us by calling us at 813-571-1200. You can also send us a message via email by using our easy contact form. Now you can also use the Live Chat box located in the bottom right of your screen right now.
William and Anthony did a WONDERFUL job installing my granite. Very professional and friendly kind men. Would highly recommend them!!!! A& S Granite does a wonderful job.
OMG. Will and Anthony are fantastic. They could not do enough to make the job perfect, our quartz is beautiful They went way beyond the normal to assure we were happy 😃 I recommend them highly. They are an asset for A&S Granite
Currently remodeling a kitchen. William and Anthony came today to install our granite. They did an excellent job communicating and installing! I would highly recommend.
A&S Granite and Marble is a great company to work with. No hassles and a quick turnaround. Today William and Anthony instead the countertops and the job turned out beautiful!!.. William and Anthony were confident in their work and did a fantastic job of installing. I highly recommend A&S to buy your countertops and ask for William and Anthony to do your installation!!
The prices are reasonable, Heidi, David and Gonzalez are outstanding. Gonzalez did an excellent installation.
Dominic Fernandez
2022-02-10
I must of went to 10+ granite stores from Sarasota to Tampa. Our last stop by A&S. From the moment we started to work with Nilo at A&S, the customer service was met beyond my expectations. The appointment was quick, and organized with great attention to every detail. The install was timely and efficient. They worked around our cabinet delays with understanding and no complaint. The granite looks amazing! Thank you Nilo for taking care of us!
Elissa Barfoot
2021-12-13