Tags cambria, corian, Countertops, Covid-19 Safety, Curava Quartz, drop-in sinks, Granite, Granite Backsplash, granite countertop, Granite Countertop Quote, granite countertops, Granite Lakeland, Granite New Port Richey, Granite Palm Harbor, Granite Sarasota, Granite Tampa, Gray Quartz, kitchen sinks, quartz, quartz countertops, Quartzite Countertops, silestone, undermount sinks, White Granite Countertops, White Quartz
Most people don't know how many styles are available for a granite countertop kitchen sink. The kitchen is a place where you'll probably be preparing a meal or making your coffee several times a day. It is an important central feature of your home that you'll use to feed your family, entertain guests, and store all your perishable food items. Presentation of your kitchen is accented by selecting a style of kitchen sink . We can begin by showing you some choices when you're thinking about that remodel.
Undermount Granite Countertop Sinks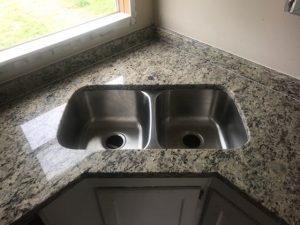 The undermount kitchen sink is a practical and good-looking style that many homeowners choose. First, hidden seams make it easier to keep clean because the sink is installed underneath the granite countertop. Next, its location underneath the granite countertop allows any debris from the counter to easily fall into the sink. Over time, this might prevent the buildup of bacteria from food or other organic material. It is almost the standard practice for kitchen granite countertop installations due to these couple of factors.
Overmount (Top Mount or Drop-in) Granite Countertop Sinks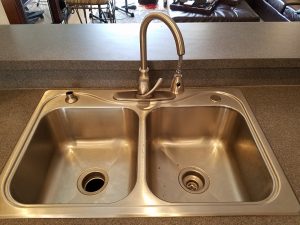 The next style is the sink mounted over the granite countertop. This style, while a little simpler to install, is not the popular choice for a couple of reasons. The one advantage that it does have is that you can simply drop it in. This means that you don't have to worry about the actual granite countertop being able to bear the weight load of the sink. One negative are that you can clearly see the seam between the granite countertop and the sink.

Single Basin Granite Countertop Sinks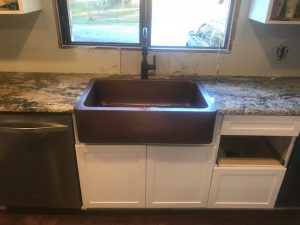 A single-bowl model can be a versatile and convenient option for the kitchen work zone. Just like double-bowl models, these sinks are available in a range of materials, and in drop-in, undermount, and apron-front configurations to work with various countertop surfaces and complement different kitchen styles.
Composite Granite Sinks
Made from 80% crushed granite and 20% epoxy resins, these sinks are becoming increasingly popular. They come in different colors and are very durable. The can bear a very high amount of heat and are scratch resistant. Furthermore, you can also clean and maintain them easily. They are slightly more expensive, though A&S Granite and Marble can produce more affordable composite granite sinks.

In conclusion, we would like you to see what's available for your kitchen's new look. See some of our work and check out all the styles that A&S Granite and Marble has provided for their satisfied customers. You can give us a call today at 813-571-1200 to set an appointment with one of our expert installers.