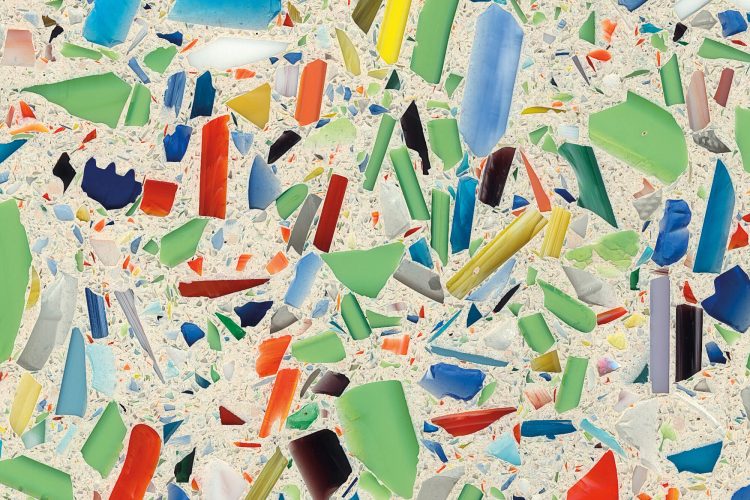 THE VETRAZZO STORY BEGAN IN 1996, WHEN A BRILLIANT SCIENTIST FROM BERKELEY, CALIFORNIA, WHO WAS FASCINATED BY THE PROPERTIES OF GLASS, INVENTED AN ENTIRELY NEW PRODUCT. HE DEVELOPED AN INNOVATIVE MIX OF RECYCLED GLASS THAT COULD BE USED TO CREATE HIGHLY DURABLE, BEAUTIFULLY COLOURED SLABS.
Patented 10 years later, Vetrazzo was initially manufactured in the refurbished Ford Assembly Plant in nearby Ford Point, California. Back when "green" was just a colour, this avant-garde product was already using a rich, stunning array of both rare and ordinary glass to create these unique pieces, each a precious gem. Four years later, Polycor Inc., North America's largest, most diversified fully-integrated granite and marble group , acquired Vetrazzo and moved production to the Polycor Georgia Marble plant in Tate, Georgia, just outside Atlanta. With their innovative manufacturing process, intensive research and development and in-depth knowledge of the slab market Polycor brought Vetrazzo into the spotlight. Research into different types of patinas, the development of the new Sea Pearl finish and creation of the Coastal Collection are just a few examples of recent advances. Yet the dedication to producing a unique, handcrafted American-made product remains true to the Vetrazzo name. Our glass pieces are always meticulously selected. Our artisans craft each individual slab with care, and each piece of glass is placed by hand. Vetrazzo is truly the epitome of advanced design, skilled engineering and painstaking artisanal knowhow. The result is an authentic work of art that tells a story in every incredible surface!
In addition to many other great choices in natural stones such as quartzite, granite, and soapstone, we have many other engineered stone countertop solutions to best fit your needs. A&S Granite and Marble can give you some great tips for maintaining your granite countertop. Our installers will let you know what you should do to keep your countertops looking immaculate. Please get in touch with us by calling us at 813-571-1200. You can also send us a message via email by using our easy contact form. Now you can also use the Live Chat box located in the bottom right of your screen right now.